In the late 1960s and early 1970s, perhaps the most recognizable private jetliner in the sky was Hugh Hefner's personal McDonnell Douglas DC-9.  Perhaps for its unusual black paint job, but more likely, the spotlight enhanced silhouette of Hefner's signature white rabbit in a white bowtie on its tailfin
Hefner purchased the plane when he was 43. He had the 119-foot plane custom-made for him after a 1966 trip to London. "I saw the future when I was in London: The sexual revolution was going on and the miniskirt had just arrived … I decided then and there to get the jet," he said in a piece he wrote for the Wall Street Journal in 2010.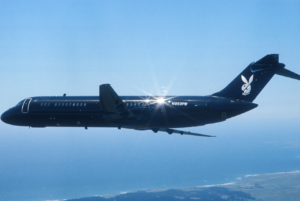 In January 1969, Playboy took delivery of the "Big Bunny" straight from the McDonnell Douglas factory for $5.5M ($38.2M adjusted for inflation). It wasn't so much an aircraft as it was the Playboy Mansion at 35,000 feet. Customized with a living room with leather sofas, a theater, a discotheque and salon complete with an oval bed with silk sheets and a fur bedspread.
The Big Bunny sported a special crew of flight attendants dubbed "Jet Bunnies." The women were pulled from Playboy clubs in Los Angeles and Chicago and sent for training with Continental Airlines. The Jet Bunnies' uniforms that were designed by Walter Holmes included rabbit ears and tails, black boots, and white aviator scarves.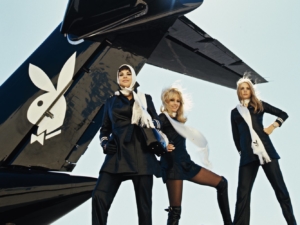 For six years the Big Bunny was used for transporting the publisher between his homes in Los Angeles and Chicago, along with going on holidays around the world with his entourage of beautiful women, celebrities, and Playboy staff. While dating his then-girlfriend, Barbi Benton, the pair visited Germany, Kenya, London, Monte Carlo, Spain, Kenya, and Italy with friends.
It wasn't just celebrities who got to ride in the private jet. In 1975, Hugh even lent Big Bunny to "Operation Babylift" which saw the jet fly 40 babies orphaned by the Vietnam War to meet their adoptive parents across the US.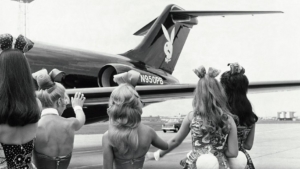 After declining magazine sales, and after falling in love with his latest purchase, his estate widely known as Playboy Mansion, Hefner sold the plane to Venezuela Airlines in 1975, who later sold it to Aeromexico. Stripped of its luxury appointments, it served as a commercial aircraft until 2004.  In 2008, its fuselage was donated to a park in Queretaro, Mexico, where the onetime symbol of aviatic hedonism found new purpose as a children's educational tool.