VREF Online Subscription & Printed Valuation Guides
The VREF Aircraft Value Reference Guide provides aircraft professionals with the latest, most up to date data for the following categories of aircraft:
Piston Fixed Wing
Piston Helicopter
Turbo-Prop Fixed Wing
Turbine Fixed Wing
Turbine Helicopter
Business Jet
Commercial Narrow Body
UAV's…coming soon!
VREF Online
VREF Online is a subscription-only cloud based software program featuring aircraft values (Historic and Current), optional equipment lists, performance data, maintenance expenses, modifications, upgrades along with troubleshooting and field notes.
As a subscriber you are free to input your aircraft specific data in real time and VREF does all the work providing you with a customized report you can send to your client, bank or insurance company. You can depend on VREF to be accurate as the information is provided from manufacturers, every major bank and financial institution and the industries leading distributors, dealers and brokers. VREF is the only trusted source for aircraft valuations and is the official Value Guide of the AOPA.
VREF Book Subscriptions
VREF Book Subscriptions are printed versions of our online database and contain ….they're mailed out quarterly on: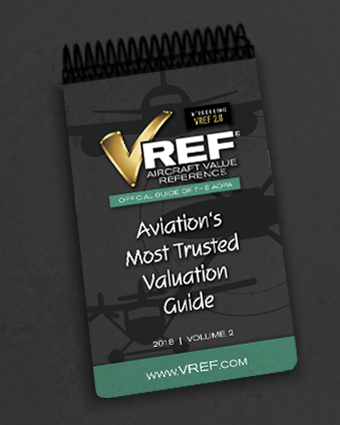 March 1-May 31
June 1 – August 31
September 1 – November 30
December 1 – February 28
VREF offers a number of packages between these services and products for you to get full access to all our aircraft valuation data on a current basis, with options to add more subscribers to your account, or Valuation Guides to your account as well.
Subscribe now to get full access to our complete library of current and historical aircraft data.
By subscribing to our online service you are agreeing to our VREFonline User Agreement
Please Support Our Advertisers
Just a Few of The Clients We Serve