The CarFax® for Aircraft
Why Do You Need A VREF Verified Value Report? Because the specific equipment list and history of an aircraft affects its value!
Avoid buying an aircraft or helicopter with an unknown history. Find out how much the aircraft is really worth by getting a VREF Verified Value Report today.
From $250-350
.
Every VREF Verified Aircraft Value Report may contain…
Accidents
Multiple Owners
Historical Sales Data
Chain of Title
Model History
Registration History
Market Data
ADs & SBs
Rebuilt
Modifications
Residual Value Forecast
Market Demand Rating
Aircraft Value Total
Performance Specs
Floor Plans
Damage History
Overall Condition
Upgrades
Operating Costs
Total Time
Total Cycles
Length of Ownership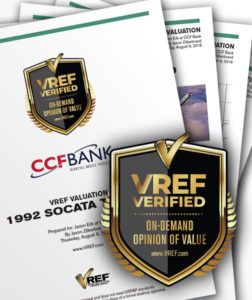 Frequently Asked Questions
What is a VREF Verified Aircraft Value Report?
Millions of consumers have been forced to rely on Internet searches, and less than transparent information on a specific aircraft. VREF Reports provide consumers and Aviation Professionals every day with up to date, accurate information to help them decide whether or not to buy a specific aircraft. Each report contains information about whether the aircraft or helicopter in question has been damaged, what the true market value is, how many previous owners, history and much, much more.
Does VREF have a report for every aircraft?
Yes! VREF has a database of over 7000 Aviation assets and it can report on every Serial Number internationally, VREF has the most comprehensive aircraft historical database in the industry. However, VREF suggests that shoppers use their reports as just one important tool, along with a proper Desktop Appraisal, Pre-Buy inspection and demo flight, to make the best decision.
Who is a VREF Verified Aircraft Value Report for?
A VREF Verified Aircraft Value Report can be used by anyone who wants to check the VALUE & HISTORY of a pre-owned aircraft. You may use a VREF Report to check the history of a fixed-wing or helicopter you're about to buy, or an aircraft you own that you'd like to sell to a private party or through a broker. Shoppers feel more confident buying a pre-owned aircraft once they know its history.
VREF Partners with the Best Names In The Aviation Industry
NOTE: VREF Verified is not an appraisal and does not meet USPAP standards. It is a verified value and should not be used in place of a formal appraisal.
From $250-350
Please Support Our Advertisers
Just a Few of The Clients We Serve