Beechcraft® Bonanza
Beechcraft® By Textron Aviation
The Beechcraft® Bonanza is an American aircraft that was first introduced to the market in 1947. The Bonanza is a six-seater, single-engine aircraft known for being the most produced aircraft in history. Influenced in design by the end of World War II, the Beechcraft Bonanza took on a new look compared to its older counterparts by featuring a retractable landing gear and signature V-tail. However, its earlier predecessors were introduced with conventional tails known as the Debonair.
The Bonanza gained a reputation for being the "forked-tail doctor killer" because there were several recorded fatal incidents. However, a careful study performed by the Aircraft Owners and Pilots Association (AOPA) proved that many of these incidents were caused by pilot error, otherwise, and widely known as wealthy amateur pilots with little to no experience. The AOPA found that between 1982 and 1989, the Bonanza had a lower accident rate than all other types of aircraft.
By the late 1980s, the Bonanza had to undergo a structural redesign as the Federal Aviation Administration (FAA) began investigating its airworthiness due to failures caused by its trademark v-tail design. Regardless, many pilots continue to return to the Bonanza as it is a reasonably safe aircraft with newer variations now available.
Country of Origin: America
Beechcraft® Bonanza Statistics
Below are average statistics for the most popular and latest A36 Bonanza model. For more facts and figures, you can access everything you've ever wanted to know about the Beechcraft Bonanza's models and variations through VREF Online.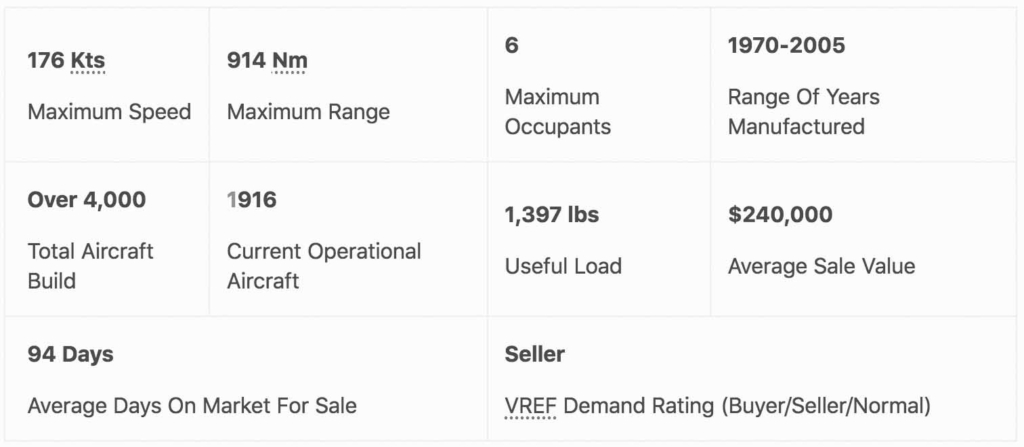 Operational Resources
Local Resources
Vaayu Aero Maintenance (Texas)
Textron Aviation Inc. (Domestic and International Service Centers)
Find a local mechanic through the American Bonanza Society
Manufacturer
Insurance
Avemco
Falcon Aviation Insurance
Travers Aviation Insurance
AOPA Insurance
USAA Aircraft Insurance For Pilots
Beechcraft® Bonanza A36 Details
Interior
Starting with the basic specs of the interior, an A36's cabin volume is 100 cu ft while its internal baggage is 37 cu ft. While models vary depending on modifications, the A36 typically has cream-colored Brisa vertical trim panels and black cherry Strata horizontal trim panels with a light tan leather interior throughout. An added touch of luxury appears in its mahogany sidewall and armrests with coordinating hazelnut leather seat belts.
Exterior
The exterior is painted white with a black and Vendetta red trim and metallic gold accents.
Avionics
The 2000-2005 A36 may contain the following factory avionics:
PS Engineering PMA-7000B Audio Panel
Aspen Avionics Evolution EFD1000 Pro Primary Flight Display "PFD" Aspen EA100 Autopilot Adapte
Garmin GNS-530WAAS GPS/Nav/Comm
Garmin GNS-430WAAS GPS/Nav/Comm
Garmin GTX-330 Digital Transponder with Traffic Information Service (TIS – Displayed on GNS-430)
Garmin GDL-69A Digital XM Satellite NEXRAD Weather/XM Stereo Garmin GDL-88 Universal Access Transceiver (UAT) ADS-B
Compliant Bendix/King KEA-130A Encoding Altimeter
Bendix/King KFC-225 Autopilot/FD/YD System Altitude Alerter/Pre-select & Vertical Speed Select Function)
L3 Communications WX-500 Stormscope (Displayed on GNS-530/430) Shadin ADC-200 Fuel/Air Data Computer "ADC"
Specifications
Configuration: Single Engine, Piston, Retractable Gear
Max Takeoff Weight: 3650 lbs
Take Off Run: 971 ft
Landing Roll: 920 ft
Wing Span: 33ft 6in
Length: 27ft 6in
Height: 8ft 7in
Take Off (50ft): 2040 ft
Landing (50ft): 1450 ft
Beechcraft Bonanza Models
Model 35 Bonanza (1947–1982)
Starting with the Model 35 in 1947, nearly 18 more models within the 35 families were built afterward. Over time, fuel load, takeoff weight, horsepower, and other smaller modifications were made until the final Model V35B.
Bonanza 35
The first model in this series, the Bonanza 35 were known for its small-chord stabilators, rear bench seats, push-pull engine controls, and a free-castering, non-steerable nose wheel (Bonanza.org).
Bonanza A35
In 1949, the Bonanza A35 production upgraded its predecessor's engine, ventilation system, and instrument panel.
Bonanza B35
The Bonanza B35 further improved the tip tanks, engine, avionics, and instruments in 1950.
Bonanza 35R
Built in 1951, the Bonanza 35R offers updated push-pull engine controls, electric propeller pitch change mechanisms, front, and rear bench seats, and has no windows behind the rear seats.
Bonanza C35
Similar to the Bonanza 35R, the 1951-1952 Bonanza C35 also has no windows behind the rear seats, an updated rear bench seat with headrests and adjustable two-position seatbacks, along with a stall warning horn in addition to light.
Bonanza D35
Following the previous model, the Bonanza D35 was produced in 1953 and offered reclining front seats, a gear handle on the right with a flap on the left, and "sight and touch" gear and flap controls.
Bonanza E35
Produced in 1954, the Bonanza E35 has long-chord stabilators, an aileron trim, wing root fillets, and "sight and touch" gear and flap controls like the Bonanza D35.
Bonanza F35
Production of the 1955 Bonanza F35 has a small rear window, optional in-wing auxiliary tanks, and flap and ruddervator rivets in place of welds.
Bonanza G35
Among its common options, the 1956 Bonanza G35 has many of the features of its previous model, like a small rear window. Yet, the Bonanza G35 also has avionics and engine upgrades.
Bonanza H35
As we reach later into the 19050s, the Bonanza H35 was introduced in 1957, this time offering vernier engine controls, hydraulic (engine oil) propeller pitch change, automatic fuel mixture control, and a more stocky structure throughout.
Bonanza J35
In 1958, the Bonanza J35 was produced with separate fuel gauges for auxiliary tanks, stowable copilot rudder pedals when no copilot brakes are installed, and instrument panel, engine, cabin ventilation, and aviation upgrades.
Bonanza K35
Closing out the 1950s with the 1959 Bonanza K35, this model has similar features to the Bonanza J35, also with individually adjustable rear seatbacks, a sideways-facing cargo area fifth seat, and engine upgrades.
Bonanza M35
Produced in 1960, the Bonanza M35 has square high stability wingtips, engine upgrades, tip tanks, and a long third window.
Bonanza N35
The 1961 Bonanza N35 kept the square wingtips and upgraded with landing lights on the nose and nose wheel strut, a standard overhead ventilation system, a fixed boarding step, and an increased baggage area with a hat shelf.
Bonanza P35
The 1962 to 1963 Bonanza P35 features a T instrument panel layout, piano key electrical switches instead of toggles, and avionics and engine upgrades.
Bonanza S35
From 1964 to 1965, the Bonanza S35 offered trapezoid-shaped long rear windows, a stinger tail cone, recessed wing lights, and a large baggage door.
Bonanza V35
The 1966 and 1967 Bonanza V35 offers many of the same features as the previous model but with a one-piece windshield with no center strip, ventilation inlet scoop between stabilators, and forward-facing fifth and sixth seats the baggage area.
Bonanza V35TC
Produced in 1966 and 1967, the Bonanza V35TC offers cowl flaps on the sides of the cowling and are among the standard V35s altered at production with the TSIO-520D engine under a supplemental type certificate (STC).
Bonanza V35A
Produced in the latter part of the 60s in 1968 and 1969, this model has a speed sweep windshield and vacuum replacement with instrument pressure air.
Bonanza V35A-TC
Also produced in the latter part of the 60s in 1968 and 1969, the Bonanza V35A-TC offers nearly all of the same features as the Bonanza V35A and is one of the standard V35s modified at production with the TSIO-520D engine under an STC.
Bonanza V35B
With a longer number of production years from 1970 to 1982, the Bonanza V35B offers a three-light landing gear indicator, an upgraded 28-volt electrical system after the 1978 model, and an approach flap preselect after the 1979 model.
Bonanza V35B-TC
Produced only in 1970, the Bonanza V35B-TC has a 6-outlet oxygen system and is another one of the standard V35s changed at production with the TSIO-520D engine under an STC.
Model 33 Debonair Or Bonanza (1960–1995)
Similar to the 35, the Model 33 Bonanza was marketed as the Debonair with a conventional tail and occasional 4-seat capabilities in certain makes. However, as most people purchased the Debonair factory options available with most Bonanza features, Debonair was dropped by the mid-1960s.
Bonanza E33
Produced from 1968 to 1969, the Bonanza E33 has a conventional straight tail, no cowl flaps, large third window, vertical stabilizer dorsal fin, and landing light on the nose and cowling.
Bonanza E33A
From 1968 to 1969, the Bonanza E33A featured its conventional tail, vertical stabilizer dorsal fin, and cowl flaps, with some removed from civilian production and made into U.S. Air Force Pave Eagle I aircraft.
Bonanza E33C
The Bonanza E33C, made in 1968 to 1969 is the first aerobatic version of the Bonanza. It has large quick-release bailout door latches and strong internal strengthening for aerobatics.
Bonanza F33
Produced in 1970, the Bonanza F33 offered many of the same benefits as the E33C but with improved interior, engine, and avionics upgrades.
Bonanza F33A
Production years for the F33A are much longer than many of the former models, having been created from 1970 to 1994. Interior, engine, instrument panel, and avionics upgrades are all present during these years of production.
Bonanza F33C
The Bonanza F33C saw various production years in 1970, 1973 to 1979, and 1986 to 1987. This model is an aerobatic version of the Bonanza.
Bonanza G33
Produced in 1972, the Bonanza G33 has a conventional straight tail, optional long-range fuel tanks, single throw-over control yokes, and upgrades to the engine, interior, and avionics.
Model 36 Bonanza (1968–Present)
The Model 36 is where the Bonanza started to resemble a luxury plane with updates to its interior, new fuel system, higher takeoff weight, and redesigned instrument panel and controls. Today's most popular G36 features a glass cockpit and is updated with the Garmin G1000 system.
Bonanza 36
Produced from 1968 to 1969, the Bonanza 36 has four side windows, a large two-piece utility door on the right aft fuselage, and a rounded tail cone and wingtips.
Bonanza A36
Made longer than any other Bonanza model from 1969 to 2005, the A36 is one of the most produced aircraft in the world. It offers six seats, added 70-pound baggage capacity for some models, club seating in the aft cabin, and a massive upgrade to its interior with a more luxurious feel.
Bonanza A36TC
Produced from 1979 to 1981, the A36TC also had six seats available like the A36. In addition, it has a two-speed electric auxiliary fuel pump, a heater inlet scoop on the left cowling, and engine and avionic upgrades.
Bonanza B36TC
Produced from 1982 to 2002, the B36TC has long Baron wings and leading-edge vortex generators ahead of ailerons. Some models even have dual flight controls, quadrant-style engine controls, and small turbine-style engine gauges.
Bonanza G36
The Bonanza G36 is the latest model currently in production from 2005. It has four side windows and an upgraded Garmin G1000 glass cockpit, among other engine improvements.
Top Beechcraft Bonanza Questions
How Much Does A Beechcraft Bonanza Cost?
The retail value for a 2005 A36 sits around $405,000. However, you can buy a pre-owned or entirely different model for less.
How Fast Is A Beechcraft Bonanza?
The maximum speed a Bonanza model can reach is 176 ktas.
How Easy Is It To Fly A Beechcraft Bonanza?
Bonanzas are an enjoyable plane to operate, but it takes professional experience or practice to nail down a good climb technique and landing as it can be a bit rough. Otherwise, the Bonanza is a comfortable ride and simple to maneuver.
What Engine Does A Beechcraft Bonanza Have?
The Bonanza contains a Continental IO-550 engine; however, depending on the specific model, it may contain a different Continental engine.
Why Is The Bonanza Called The Doctor Killer?
The Beechnut Bonanza is commonly referred to as the "doctor killer" because, during early production, it attracted many wealthy but amateur pilots, and occasionally doctors were among this crowd. Inexperience led to several high-profile crashes involving these medical professionals, thus giving it the name "The Doctor Killer." Recent studies conducted by the AOPA have shown that many of these accidents were the result of pilot error.
How Safe Is Beechcraft Bonanza?
According to the AOPA, the Beechcraft Bonanza has a lower overall accident rate compared to other aircraft in its study. However, it needs special attention to the nonstandard placement of the landing gear switch in specific models as gear retractions can occur when the pilot aims to raise the flaps.
In the mid-1980s, Bonanza's signature V-tail design came under scrutiny as it was believed to cause many accidents. The V-tail design gained a stabilizer reinforcement kit at the root of the V-tail. Afterward, in-flight breakups had decreased dramatically.
Related VREF Resources
FAA Pilot Proficiency Award Program (Wings) Seminar sponsored by American Bonzana Society.
Looking For More Insight On Any Beechcraft Bonanza Model?
Unlock statistics, values, and so much more when you sign up for VREF Online.
[Sign Up]